FREIGHT BROKER TRAINING

Home Study
---
A Freight Broker Start-Up Guide
for Those Who Don't Know
How or Where to Get Started or
for Those Who Just Need
a Swift Kick in the Pants!
Many people who are considering becoming a freight broker have no clue on where to begin. Truckers frequently tell me, "I've been working with brokers for years but I don't know how they got started, I don't know what they do."
There's nothing worse than wanting to do something different but being paralyzed in getting started. Whether you're in trucking or not, it's difficult, if not impossible, to find the straight scoop about freight brokering.
This industry is tight-lipped and whatever information there IS generally lacks sufficient detail on how to get started. Further, some of this information is just downright inaccurate.
I'd like to take a minute and share my story about how I got started as a freight broker. But, first, allow me to introduce myself.
My name is John Thomas. I've spent the last 16 years training individuals just like you to become freight brokers. My freight broker training is based mostly on my actual, previous freight brokerage company.
Then throw in another 10 years or more, working with small business startups in other industries. Teaching and training are my passions!
Yet, when I started my freight broker venture, I didn't know a thing about it. I had read about some of the benefits of brokering like:
Being able to work from home,
Not needing formal experience in logistics,
Not having to hire employees,
I could relocate to anywhere and my customers and carriers could be anywhere,
Being able to work with customers and truckers all over the country,
Plus, there was a high income potential.
But other than this – I didn't know beans from buckshot about brokering.
I even spent over $3K to learn how to broker freight. The results were less than desired – there was not much to be learned with having just five pages of a very broad outline.
Initially, even before I got started, I felt as if I was a failure and I was embarrassed! I didn't even know the right questions to ask.
But, after I began brokering, I plugged away on my own while documenting everything I did regardless of whether I felt it was right or wrong.
I wanted to prepare a step-by-step guide of everything that was needed to succeed in my new business.
It took me over three months to see the "big picture" and to have all the detail laid out like a road map.
Now, this strategy was very general at first; but as time went on, my blueprint started to take shape as all the many details were getting filled in.
I began to learn that the business concept and some of the required procedures in freight brokering appeared to be simple but this apparent simplicity was deceiving.
Further, I learned that all the many details and procedures that needed to be done had to be done in sequence or else the entire business was at risk and failure was a real possibility!
The Moment When the Light Bulb Goes On!
Yes! When you actually learn the steps it takes to get your authority, learn the tools of the trade, learn what it takes to find loads and work with shippers and carriers, etc., you become "a genius!" You are now free to take action and build your business the right way!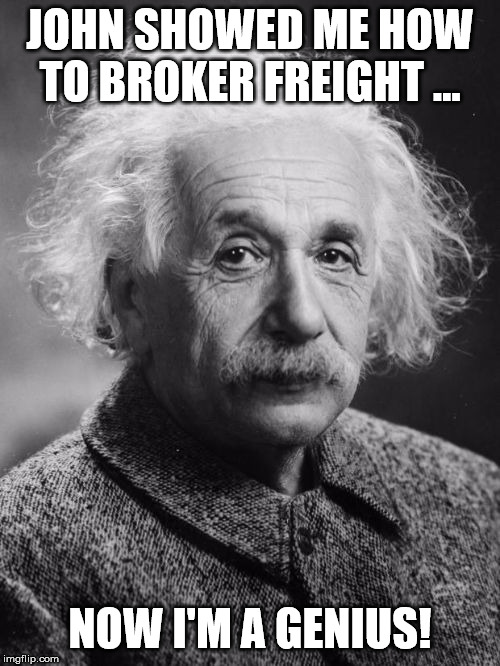 You find your success by getting $100, $200, $300 or more profit, for example, on each load you help move.
You get repeat business – most truckers already know this routine – they already are getting loads, perhaps many of them. But many of them lack their broker authority. They also don't know how to work from the perspective of a "freight broker" and so they are restrained by not being able to go directly to shippers.
You'll approach each shipper as a "freight broker" to get loads. You are then free to give those loads to YOUR trucks or to any other qualified motor carrier. Shippers don't care – they just want their cargo moved.
With your broker authority, and – acting as a freight broker – you can help move loads all around the country by getting set-up with other trucking companies who don't have their broker authority.
How cool is this?
It's really wide-open once you
have your own freight broker authority.
You may be in trucking, you may NOT be in trucking – whatever your situation, you start your journey by learning WHAT you need to do! Further along in this presentation, you'll have an opportunity to learn not only WHAT to do but HOW to do it all as well.
After months of pulling all of my information together, I was ready to say, "This is READY! – I (or anyone else) can use this guide to learn what needs to be done and where you need to start in brokering."
So, today I'm very excited to announce that my blueprint for freight broker success is ready for you too!
Today, I want to make available to you my Freight Broker Start-Up Guide that will remove all uncertainty and self-doubt about WHAT you need to do to become a freight broker.
Introducing my …
Freight Broker Start-Up Guide
Here's exactly what you receive with this guide:
>>> Topic 1 – Introduction
Even before jumping into freight brokering, you may need the answers to these questions:
What exactly IS a freight broker? Who can become a freight broker? What are the start-up and monthly costs involved? What kind of office set-up do I need? What skills do I need to possess?, plus more …
There's a lot of confusion in some of these questions and you'll find the answers here in this introduction to the Freight Broker Start-Up Guide.
>>> Topic 2 – Industry Overview
An overview of the major players, why freight brokers are in demand, what some of the challenges are, the ONE thing you want to avoid when setting up your brokerage, who is the FMCSA?, industry terminology, plus more…
>>> Topic 3 – Organizational – Getting Started
Forms of doing business, getting your business registered, special note for owners of trucking companies, , MC and DOT numbers, other permit requirements, contingent cargo insurance, what are the estimated costs for entering this business including getting your broker authority, how to prepare for your trust fund/surety bond, using factors, plus more…
>>> Topic 4 – Tools of the Trade
Calculating rates, rate negotiation, how the broker collects fees, reviewing the weigh ticket, if applicable, using load boards, should you buy software? building your own shipper and carrier databases, truck searches, plus more…
>>> Topic 5 – Finding Loads and Working with Shippers
Items needed for your shipper set-up package, customer acquisition strategies, how to find good paying loads, going where no one else is going, what shippers will expect from you and what you can expect from them, one very important question you'll never forget to ask before working with shippers, the pros and cons of giving quotes, taking the order, using credit services, providing incentives to get paid faster, should you use a shipper contract? plus more…
>>> Topic 6 – PreQualifying and Working with Carriers
Items needed for your carrier set-up package, what to expect when truckers/dispatchers call in response to loads that you have advertised, completing the process that will allow you to work with carriers, the Broker-Carrier Agreement, the Load Confirmations you will send to carriers that spell out the respective duties and responsibilities, using third-parties, dealing with difficult individuals, potential problems such as late deliveries, missing pieces, damaged cargo on delivery, miscommunications, plus more…
>>> Topic 7 – Managing Your Business for Success
Your formal business plan, extending credit to customers, carriers extending credit to you, building creditability, invoicing, paying trucks, collections, using third parties, using factors, where you can get money up front to enable you to pay carriers in a timely fashion, accounting and recordkeeping, alternatives to using QuickBooks, cash flow projections, other business fundamentals, plus more…
>>> Topic 8 – Legislation and Related Legal Issues
Legal issues that impact freight brokers like CSA2010, Safety Fitness Determination (SFD), CARB (California), avoiding negligent carrier selection and vicarious liability, other related issues like HOS, etc., accounting and recordkeeping and FMCSA requirements, plus more…
>>> Topic 9 – Securing Your Business for Success
Getting your foot in the door, getting repeat business, social media, should you build a website? other marketing strategies, plus more…
>>> Topic 10 – Industry Resources that will keep you informed
Organizations, publications, websites, individuals, plus more…
All you need to do is take the first
step here to learn exactly WHAT you need to do –
…and then grab hold of the next offers that show you HOW to do it all. This is life changing information.
My initial offer on this Freight Broker Start-Up Guide was going to be $650.
Now, I'm not going to ask you to pay $2,995 or $1,995 like some do for my comprehensive live training in El Paso, Texas or via telephone and Internet – or I'm not even going to ask you to pay $650.
But, if I DID charge you $650 and all it did was show you everything you need to do to set yourself up with a realistic, home based business, would it be worth it for you?
And, if all it did was to save you a hundred hours or more of research and effort, would it be worth it for you?
And, if all it did was to help you make sure that nothing slips through the crack as you are setting up and working your freight broker business, would it be worth it for you?
I had two choices – either come out with a real cheap check list or ask for a little more investment from you and give more practical and useful information.
So, if you had a Start-Up Guide that eliminated all the uncertainty and confusion about what you need to do to become a freight broker, what would it be worth to you?
You've already seen how it may be worth at least $650 for you.
But, because I want to make this as affordable to as many people as possible, I'm going to give you a very special offer.
Let me tell you that you can get started with my Freight Broker Start-Up Guide for just $149.
You're going to learn what you need to do to become a freight broker and you can learn this on your own because I'm giving you all the steps you need to take.
I'm Even Going to Sweeten the Deal
with These FREE Bonuses Worth Over $100!
Bonus #1 – , MSWord document – "Sample Business Plan for a Freight Brokerage" – modify it anyway you like, 30 pgs,
Bonus #2 – eBook, "Success Strategies to Build Massive Income as a Freight Broker", 25 pgs,
Bonus #3 – eBook – "Insider Secrets to Successful Freight Brokering", 79 pgs,
Bonus #4 – three audio mp3 messages (over two hours) on this industry:
"15 Rock Solid Benefits YOU Can Expect Working as a Freight Broker",
"Freight Brokering: the Perfect Home-based Business",
"A Simplified Guide to Becoming a Freight Broker"
Bonus #5 – Free Report – "Seven Skills of Highly Effective Freight Brokers",
Bonus #6 – Free Summary – "Forms of Doing Business", 1 pg,
Bonus #7 – Free – "3-Steps to Prepare for Your Trust Fund or Surety Bond", 1 pg,
The Start-Up Guide and the Bonuses will show you WHAT you need to do; higher level training will show you HOW to do it all.
Let's Recap:
Start-Up Guide, 10 Topics – $650 Value

Bonuses – $100 Value

Total Value – $750
Your Cost Today – $149
---
Here's how several people have benefited from my program
"Thank you John for everything it was a pleasure working with you.. We learned a lot and I admire you for all your hard work and putting it easy for us! Thanks God bless"!
-Jessica M. from El Paso, TX
"Two years ago I have received training from John Thomas who owns ATex Freight Broker training out of Texas. Anyone interested in transportation brokering, this is your go to guy. People often ask me about this business.
I can give you an overview of the industry, but I am not a trainer. Anyone who is seriously interested needs to contact John. This is the best training out there, where dollar for dollar you get your money's worth".
-Sladjana RS from Atlanta, GA
"John this was the best training I have ever taken and I have taken all kinds. Thanks so very much for such a good course and at an affordable price. Thanks again."
-John M. from Youngstown, FL
Here's What You'll Have After You've
Gone Through the Start-Up Guide and Bonuses
Unraveled the mystery of HOW to become a freight broker,
More time at home if you choose to broker freight instead of being on the road driving,
Mental and physical relief from the stress of being on the road,
The freedom to help move freight all over the country without leaving home,
What The Freight Broker Start-Up Guide and Bonuses Don't Include (and Why)
This Freight Broker Start-Up Guide and the Bonuses do not include all the "how to" detailed instructions that you might find in higher level training.
In this start-up guide, we're showing you the hard part by teaching "what" you need to do. After that, it's just a matter of doing it and you'll be given several opportunities here to do just that.
What Would It Be Worth to You to Have a Clear
Blueprint to Follow – Minus All the Confusion – in Order to Become a Freight Broker?
Knowing exactly what to do to set-up and operate your very own freight broker business and start helping to move freight all over the country are not "pie in the sky" ideas. These are realities. Others are doing it – why not you?
All you need to do is take the first step to learn exactly WHAT you need to do – and then grab hold of the next opportunity that shows you HOW to do it all. These will change your life.
Imagine your income potential if you can help move 40 loads per week at a $200 profit per load; that's an $8K profit per week AFTER paying the truck!
You may not do this type of volume starting out – but after you get established, this is within reach – plus a whole lot more, depending upon your vision.
$149 is a very small price to pay to learn exactly where to go and what to do to get started. After you order, you'll be given the opportunity to get the actual materials and handouts for the "How to" experience at a fraction of the cost of either my live or telephone and online training.
Order NOW. Take advantage of this outstanding offer. You'll have your materials promptly after placing your order.
I know some of you reading this are VERY passionate about becoming a freight broker. I know this because every week I get emails and phone calls as you tell me this.
And, yet, for some – it stops before it gets started. Why?
Some of you may be fighting that "negative inner voice" that keeps repeating, "Yes, I'd like to but…, Yes, I want to but…, Yes, I'm almost ready but …
It always ends with that infamous "But"…
Listen, I hear you. I feel for you. I'm no different than you when it comes to making some decisions or doing something different. Sometimes I'm ready, sometimes I'm willing – but when I step up to the plate – I can't swing. I can't pull the trigger.
And, it's that tiny little negative voice that prevents thousands of people from fulfilling their dreams.
When you take action – it's powerful!
So, if you are wondering if freight brokering is for you, be honest with yourself and ask – (1) "Am I cut out for self-employment? (2) Can I make a steady income and, if so, how soon will it start? (3) Can I compete against the 'big' guys? (4) Can I afford the trust fund? (5) Do I have the required sales skills? (6) I don't have any trucking experience – how can I work as a freight broker?"
Here are some quick comments to these concerns:

Self-employment – as difficult as it may be at times – especially getting a new company off the ground – may be a better alternative than dying a slow death with boredom, being in a rut with nowhere to go or running West looking for the sunrise.
A steady income IS realistic – but it won't happen overnight unless you have several shippers and a number of carriers to get started with. Normally in the beginning of this venture (and for most other service-oriented businesses), you will experience spikes up and down with activity and income. Remember this, however, while you are building repeat business, your overhead expenses are relatively low, especially if you are working from home.
You will be competing with others, for sure. But you don't need 100 or 200 customers. Sometimes 3-5 good paying customers, giving you 3-5 loads per week will keep most small brokerages very busy AND very profitable,
Your start-up costs are relatively small – you can get started on your broker authority for about $1,400,
You do not need to come out of a trucking background. Your best skill is to know how to run a business, using good cash management skills, marketing strategies, planning and setting up operations.
This is one of the least expensive and easy REAL businesses that anyone could find especially compared to the potential income that is waiting for you.
Some people who try starting this business on their own without getting help might succeed – but if you don't know what you are doing, you won't learn how to avoid the pitfalls that can wipe you out.
It's easy to get started. My Freight Broker Start-Up Guide will lead you through every step that you need to take in order to get started.
My guarantee – you have 90 days to examine and use the Freight Broker Start-Up Guide and the Bonuses. If you are not satisfied for any reason, you'll get a full refund – no hassle, no questions asked and you can keep the Bonuses. This guarantee is for only the Start-Up Guide and Bonuses. If you choose to order the additional one or two offers here, they do NOT include a money back guarantee.
YES! I Want In!